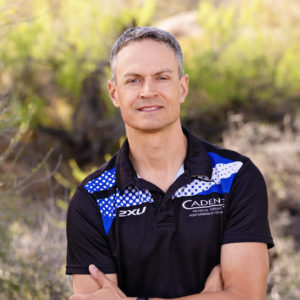 Clinical Bio:
Southwest Minnesota State University: Summa Cum Laude, BA in Chemistry
University of Iowa: Masters in Physical Therapy
Charlie has practiced orthopedic and sports physical therapy for over two decades. He has special interest and experience in running, cycling and swimming injuries. His approach combines active patient involvement and manual therapy techniques. Charlie has extensive knowledge on the mechanics of each sport, allowing him to educate and train his clients completely to avoid re-injury. He prides himself on evaluating and treating based on scientific evidence vs fads and myths.
Coaching Bio:
USA Triathlon Level 1 Coach
Certified Health and Wellness Coach via Catalyst Coaching Institute
Having been a rehabilitation "coach" for over 20 years, Charlie has transferred those skills and passion into coaching endurance athletes.
His philosophy includes guided training plans with a focus on other key areas such as sleep, nutrition, stress management and mental fitness.
His coaching resume includes USAT All-Americans, Boston Marathon Qualifiers and 70.3 World Championship Qualifiers. He prides himself on a customized, individual approach…realizing everyone is a bit unique. He also likes to guide his clients through the fads and hot trends choosing more to coach using current scientific evidence.
Racing Resume:
USAT All-American
Boston Marathon 2018
Several age-group wins in road running, cycling, trail running and triathlon.
Racing Highlights and PRs
5k: 17:32
10k: 38:47. 3rd place Masters, Phoenix/Mesa 10k
Half Marathon: 1:23
Marathon: 3:10
8th place overall finish and Masters Overall winner in Tour De Scottsdale 70 mile bike race.
Sprint Tri: 1:04
Olympic Tri: 2:14, Mountain Man Olympic Tri
70.3 Tri: 4:52 IM Santa Cruz and Indian Wells
140.6, IM Arizona 10:39
Overall winner 2016 Dam Good Run 13k Trail Race.